Do you need some simple, easy, and cheap ideas to give to your wonderful neighbors this Christmas? We have a list of a few ideas for you.
I Love this idea! Especially since I am a baker. You just get an oven mitt with a pocket, a cute cookie cutter, and a packages of the Betty Crocker sugar cookie mix. How easy of a gift is that?
(Photo Courtesy of Allrecipes)
Another easy thing is to do cookies (or brownies) in a jar. I like to keep my old spaghetti, salsa, and jelly jars to use for just these types of things. Just put a cute decoration around it (as simple as some christmas themed scrapbook paper), a cute bow on top and a ribbon with a recipe card. You include all the dry ingredients in the jar (layer them for a cute look) and then the recipient adds the wet (eggs,butter,vanilla, ect.)
Allrecipes.com has a ton of recipes! Here are a few links:
Cookies in a Jar
,
Brownies in a Jar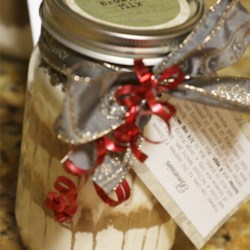 (Photo Courtesy of Allrecipes)
Go to the dollar store and get rolls of Christmas wrapping paper. Then make a cute gift tag that says "Don't get wrapped up in the holidays. Love the ......" Use ribbon to tie the tag to the gift wrap.
Get a bottle of Jam either homemade or store boughten and attach a note with ribbon saying "Jam is like love-you can't spread it around without getting some on yourself! Merry Christmas! Love ___"
Attach a cute festive note to some Bounty paper towels that says "May the "Absorbing" spirit of Christ this season, "Blot" out your problems, soak up your sorrow, and wipe away your difficulities and may the New Year bring you "Bounteous" blessings all the year through. Merry Christmas!"
Find a cute snowflake ornament and attach it with ribbon to a handout with this saying, "Rudolph's nose is

Red

, Candy is Sweet. We are way too busy, You'll have to make your own treat! Life is like a blanket of snow. Be careful how you step on it, Every step will show! Take time to chase the snowflakes this Christmas season!" Love the ___________ family
Get a bag of Christmas M&Ms and with them attach this "These special little candies come in colors bright and fun. There's more than color to be found, A story of God's Son. The M's turn into W's, If you turn them upside down, a few more turns and E and 3's are waiting to be found. M is for the manager where Mary lay her precious boy. Little did the world know, this baby would bring great joy. The W is for the Wise men, who foloowed a bright star. The star revealed a King was born, they came, but oh, so far. In Bethlehem they found him, just has they had been told. 3 is for the gifts they brough, Frankincense, Myrrh and gold. W is alos for their worship, as they bowed before their King. Salvation is the promise given, there's nothing we can bring. Faith and works alone is how we come, He died to set us free. E is for eternity, One of God's gifts to you and me. Merry Christmas!"
Buy a candle (any kind will do, but I would suggest a nice smelling one that the family can use) and attach this note "The candle shows man's thanks for the star log ago. It's small light is the mirror of starlight. At first, candles were placed on the tree. They were like many glowing stars shining against the dark tree. The colored lights have now taken over their rememberence. Many people place candles on their windowsills at Christmas time. This practice which originated in the Middle Ages, was intended to guide the Christ Child to Christian homes."




Buy a metal kitchen whisk and then stuff it with kisses. Add a Tag "we wisk you a Merry Christmas"







One I got from a coworker that was really cute was hand warmers. Then a quote that was about keeping warm.




My all time favorite to give or to get. Hand soap from bath and body works. They have great sales often with the soap and also give the cellophane bags to put them in. Try the twisted peppermint it is my (Teresa) favorite!!! Also the soap doesn't go stale like so many of the homemade gifts so if you are out of town or just slow at getting them out they store well :)
You can find this awesome post linked up to the following Fantastic Parties: