So a bunch of us wanted to do a cute Valentine's day project we saw on Pinterest. So we got the basic materials and then everyone did their own thing. We had someone cut some 2x4's, and then someone else cut out the vinyl letters. The rest of the accessories (paper, ribbon, jewels, flowers, buttons, etc) were up to each girl. I love seeing each person's personal style reflected. =)
Trinity
These are Trinity's blocks. I loved being able to make these, especially since I had hardly any Valentine decorations.
JeNae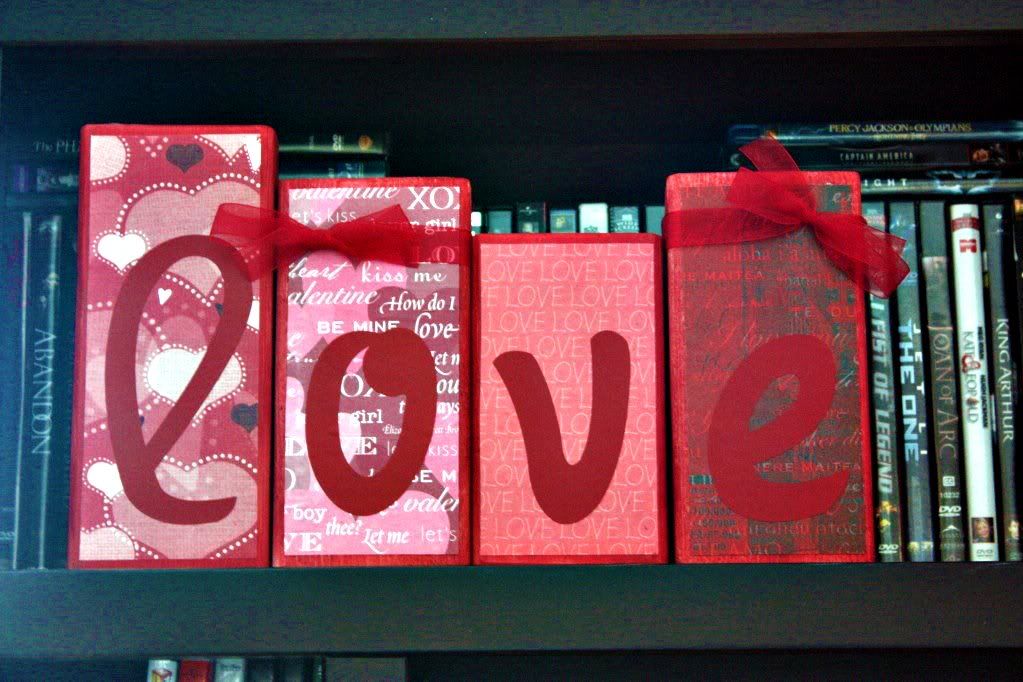 These were done by one of our friends, Stephanie. She wanted to join in the craft fun, too! Love the leopard print with hearts. Fun!!!
Tiffany
Here's my set. I love how they turned out!
Keri
A nice addition to my Valentines themed mantle!
Whitney
I LOVE the vintage look and so that is the route i took with my blocks. They fit perfect in my house. I had lots of fun.
Emily
I loved my whole shelf, so I took a picture of it all :)
I am all about the chocolate & sweet's on V-day, so that is what I did with mine.
You can't beat chocolate truffles, brownies, and chocolate chip cookies! Yummers!
Well i wanted mine just a little bit different cause that is how i roll. :) But I am also the procrastinator of the group so i was slow going to buy my valentine paper and they only had the white with lips left at the store i went too. And i was NOT taking 3 kids to another store. Therefore I had to go home and stamp my papers so the pink are the ones I made. I want to add a ribbon around the top of my L, but as this post is going up tmrw and and it is 8:25pm and i still need to go to the freezer meal swap and make my laundry soap tonight i doubt the ribbon will be added for a few more days still. Happy Valentine's Day!!!!
I'm Linking up to these Awesome Blogs!